Callaway Mack Daddy 4 Wedges at OnlineGolf

Callaway Mack Daddy 4 Wedge

The New Standard for Wedge Performance
Mack Daddy 4 sets the standard for wedge performance by combining performance technologies with premium components. It's the finest collaboration yet of industry legend Roger Cleveland and Callaway R&D, and was influenced heavily by Tour pro input.
Tour-Inspired Shaping
The Mack Daddy 4 is Callaway Golf's most tested and Tour-validated wedge to date. Thanks to Roger Cleveland's work on Tour refining shapes, soles, grinds, and camber, this golf wedge has a more compact shape, straighter leading edge, tighter leading-edge radius and slightly more offset when compared to its predecessor, the MD3 wedge. The tight radius makes it easy to hit clean contact on tight lies for maximum spin and control. "Tour pros like only a subtle amount of leading-edge radius. In the Mack Daddy 4 we gave them enough to make a performance difference while still pleasing the eye," said Roger.
---
Uniquely Satisfying Feel
Wedge feel comes from several variables, including CG location, sole, head material, finish, shaft, and grip. Callaway Golf has carefully considered each element, as well as the soft 8620 carbon steel head and Platinum Chrome or Matte Black Finish. The system of four weight ports and milled aluminium medallions allow players to position the head's Center of Gravity progressively upward as loft increases for solid feel on almost every single shot. The Dynamic Gold Tour-Issue 115 shaft and premium Lamkin UTx grip further enhances the satisfying feel. These elements, when combined with precise turf interaction from Callaway's bounce/grind options, give the MD4 the most satisfying feel Callaway have ever achieved in a golf wedge.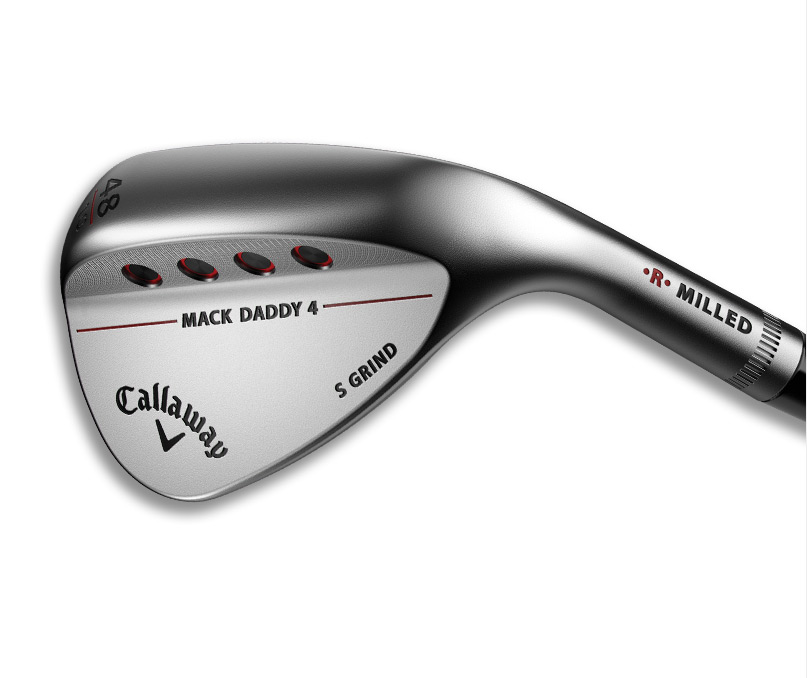 ---
New Groove-in-Groove Technology for More Spin
Callaway's Groove-In-Groove Technology features a wealth of technologies to provide players with shot-stopping spin. The main horizontal grooves have been milled and saw-cut to precise tolerances, while the lower lofted wedges (52 and below) feature a 20D groove for consistent spin on fuller shots. Higher lofted wedges (54 and above) feature an aggressive 5D groove for maximum control out of the rough and around the greens. The 16-groove configuration includes Callaway's extra "Nip-It" groove near the leading edge for added control, especially on short shots.


All grooves are 100% inspected with a digital stylus and special software to ensure the tightest tolerance within the USGA rules.